"A cat's New Year dream is mostly a bird! Don't be like a cat; in New Year, dream something that you have never dreamed! Target for new things!"




―

Mehmet Murat ildan
It's been a great year everybody but 2013 had to end sometime, so before it does let us gush a little bit about the books that made 2013 a great year in reading for us!
_______________________________________________________________________________
2013 was the year I found my way back to books.
And, perhaps, I had never left the path, but for whatever reason: it was an abnormally great
year for personal reading. Never one to leave an ever-growing stack of to-reads unattended for
too long, I managed to get through a book a week this year—and, no, I am not including the
hundreds of manuscripts I've muscled through for Scarletta during our respective reading periods.
If I included those, too, it would be nigh impossible to choose a few favorites…we get a lot of
great material, even if it isn't quite right for our press.
I suppose it helped that so many quality books were released this year. Fiction and Nonfiction
lists all around the United States have been populated yearlong with captivating characters and
enthralling narratives, momentous sadness and unrivaled joy. There was the discovery of sci-fi
darling and debut novelist Samantha Shannon. Marisha Pessl's hotly anticipated follow-up to critically praised
Special Topics in Calamity Physics
finally arrived in stores this summer. Wally Lamb's
We Are Water
taught us what it meant to be a family, even amidst the unpredictable and choppy waves of change. Young Adult literature fans glorified and gored their favorite authors on twitter. And authors from across the ocean found new readership in the states with beautifully written and translated works.
Still, reading my waxing and waning on the countless successes of the book industry this calendar year is not the reason you found your way to the Scarletta blog today. You're here for some review and recommendation! It's taken a lot of rearranging Excel documents and revisiting my reviews on Goodreads, but I think I've finally narrowed down my list of titles this year to ten titles that I found massively readable and completely engrossing.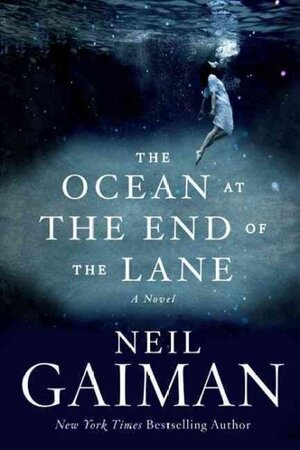 10. The Ocean at the End of the Lane by Neil Gaiman
9. Me Before You by Jojo Moyes
8. The Dinner by Herman Koch
7.The Infatuations by Javier Marias
5. Special Topics in Calamity Physics by Marisha Pessl
4. A Monster Calls by Patrick Ness & Siobhan Dowd
3. The Goldfinch by Donna Tartt
2. Where'd You Go, Bernadette? by Maria Semple
1. The Starboard Sea by Amber Dermont
_______________________________________________________________________________
I read some fantastic books in 2013; the majority of them not even published in 2013. I at one point this year decided it was high time I attempted to read the many unread books on my shelves (that number significantly increased when my husband and I started living together...). And so 2013 saw the beginning of that, and 2014 will see much more. Of the books I read, it's extremely difficult to decide what my favorites were, so I'm narrowing it down to "Desiree's Top Three of 2013."
Silhouette of a Sparrow by Molly Beth Griffin
– I was fascinated by this book. It was the book I chose from the pile to read during our trip up to my parent's house for our Independence Day holiday. I couldn't put it down, and as I've said before about this book, I was the boring girl with her nose in a book while the whole family played games and enjoyed the lake. Read it. You won't regret it. In fact, you'll lose yourself in it.



The History of Love by Nicole Krauss – A love story like no other. It's beautiful. It's tragic. It's tender-hearted. You'll find yourself swept away by the characters and the stunning simplicity of Krauss' undoubtedly romantic piece.
The Kite Runner by Khaled Hosseini – This one undoubtedly makes my top three. It's a recent read, and one that easily made me cry. I bought it for my husband, and it stared at me from the bookshelf until I picked it up. The graphic descriptions of not just a war-torn country, but of the inhumane acts that people can commit…it's eye opening. Plus, it's accompanied by a narrator you don't want to like at all times, but in the end, you know that he can be good again…
_______________________________________________________________________________
Sara
"A Haunted 2013"
As 2013 began to come to a close, I realized I did not have a favorite book of the year! I'm an avid
reader and did read some wonderfully buzzed-about books such as Where'd You Go, Bernadette by Maria Semple, Me Before You by JoJo Moyer and Doctor Sleep by Stephen King. However, none of them stayed with me. I did not wake up thinking about the characters in the middle of the night. A good book needs to take over your life for a short while. Some of my favorite books include The Bronze Horseman by Paullina Simon and Outlander by Diane Gabaldon.
I was searching… searching for something that would thrill and excite me! Then I came across a book called
Help for the Haunted
by John Searles. The book came to me through the library. I must have requested it but I did not remember doing so. I brought it come and I began to read. The book was spooky, menacing, sad, and annoying.
Searles accomplishes something very few authors can. He takes himself out of the writing. I mean the story and characters completely take over. His voice is the character's voice. In addition, the writing style is simple and mesmerizing. He transforms the reader into the world of the Mason family. The story is about a family in Maryland. They are seemingly very simple yet very religious. The mother and father help those who think they are demonized. The basement is a haunting place and they are constantly called away helping clients.
The story opens with the murder of the parents. The narrator is the youngest daughter, Sylvia. She and her sister, Rose must deal with the fallout from their parents' murder. Is everyone who they seem? Are Rose and Sylvia totally innocent?Searles takes us on a wild ride!
I highly recommend it.
Happy reading!
-Sara
_______________________________________________________________________________
Denzel
Apparently I'm a bit better at making rash decisions, like single favorite book of 2013. I'm going with The Goldfinch by Donna Tartt, which Josh did mention in his list. It was the highlight of the year for me, as I've been waiting for Tartt to follow The Secret History for basically a decade. Not to spoil anything, but it literally starts with a bang and I feel like Tartt managed to carry the story through to the end without losing sight of the overall experience. Amazing pacing, a protagonist who you can understand and who feels real, and an amazing attention to detail at every turn.